Quarries of Queensland operate four quarries – Skyville Quarry, Eureka Quarry, Mazeppa Quarry and Mt Curio Quarry. The location of these four quarries throughout Central Queensland allows us to service an extensive area. That combined with the comprehensive range of products available from these quarries means we can fulfill all your requirements for all types of projects, even those that are located over a vast area.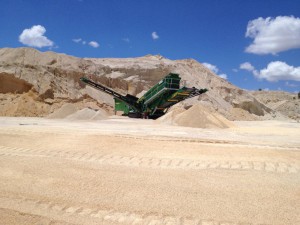 SKYVILLE QUARRY – MORANBAH

Skyville Quarry is located 20km south of Moranbah, Queensland. Our full product range is available from Skyville Quarry.
EUREKA QUARRY – CAPELLA

Eureka Quarry is located 22km from Capella, Queensland in the Lilyvale mining area. All of our products are available from Eureka Quarry.
MAZEPPA QUARRY – CLERMONT

Mazeppa Quarry is located 80km north of Clermont, Queensland. At Mazeppa, our full range of products are available.
MT CURIO QUARRY – SPRINGSURE

Mt Curio Quarry is located 7km east of Springsure, Queensland. At Mt Curio, our full range of products are available.